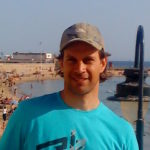 This thing will save and change your life
Long time surfer / kitesurfer / stand up boarder, work out every day, well in my 40s. August 2015, my back went out on me for the first time in my life. Stuck on a sofa for several months, couldn't stand, sit, or even lay down on my back, got drugged up pretty bad by doctors without a clue on how to treat a herniated disc (S1 L5). Worst experience in my life, thought my ocean days were over. Deep inside I knew the solution was in moving the right way, but where I live no-one really knows how. So I kept searching the web until I stumbled upon a surfer's website. His workout were too rough for me - I was still hardly able to walk - but he mentioned Foundation Training on his blog, so I checked it out. Seemed soft enough for me to try, so I did, through the short videos. Initially I was hurting when doing the founder, but my gut feeling was to keep trying. Went on to purchase the videos, did the fundamentals day in day out for a full month. It was like a miracle for me. Slowly but surely, the unbearable hip pain that radiated all the way down to my toes began receding. Couldn't believe it. After a month or so, moved on to Daily Workouts. I found them hard, especially the forward fold, I would have never have dared do something like that just 2 weeks earlier. Kept on going. 6 monts after my back went out, and about 2 months after starting the FT program, I was back in the water. Life saver. Now I know back pain is all about posture. Learn the right postures, stretch and strengthen the posterior chain, and keep doing so forever. And you'll be fine again.
~Surfer from Morocco
Tim Brown, D.C. Inventor of Intelliskin Posture Apparel
Eric has created the perfect storm, bringing together evidence-based science and functional training that is second to none. Their approach to building a solid foundation is my prescription for everyone from top athletes in the world to their mothers! Movement is life. Life is movement. And if you are limited in how you move against the constant forces of gravity, it is only a matter of time until you are injured. I know this to be true as I have experienced this roller coaster as a competitive athlete. Not until I retrained my movement patterns did the cycle of injury after injury end. It really is a thing of beauty to see such a brilliant melding of creativity and sports science built into a practical, low-tech program that focuses on posture, core, and fundamental movement patterns designed first and foremost to provide athletes with a solid foundation to apply to their chosen sport. I'll never forget what Derek Fisher said to Eric about why he chose to work with Foundation Training: "I did not hire you to make me a better basketball player; I hired you to make me a better athlete." True, true.
Joseph Mercola, Health and wellness thought leader & New York Times Best Selling author
I believe Foundation Training may offer the best of all worlds in terms of building a strong core, eliminating back pain, and promoting optimal health that goes beyond fitness.
From chronic pain to 10 min plank
After 20 years working as a stuntman, going to the gym 5-6 times a week I felt like Hercules, but then my back went. Spent 18 months in bed! Now 5 years later I found myself as a chronic back person. I trained as a structural bodyworker and now I work with people with chronic back pain, but can only work 4 hours a day before the pain stops me.
But 5 weeks ago I found Foundation Training, and now my pain is almost gone! I'm back in the gym with new hope, and a job as a personal trainer! Yesterday I did a 10 min plank! How is that possible in just 5 weeks?? What can I say. Foundation Training safed my life! Getting better day by day. Thank you from the bottom of my heart!! From me and my clients!
My hope is one day to come to the states and become a part of the Foundation Training family!
New Lease on Movement
After a decade of endurance sports racing it was becoming more difficult to move through life without an incredible amount of day to day pain. All traditional medical remedies were failing including chiropractic care, physiotherapy, prescription drugs. It wasn't just that I could no longer participate in athletic events - it was to a point where I was (1) having difficulty being active with my kids, and, (2) I was considering the very real possibility of having to give up my career as a flight paramedic. I came across foundation about four years ago. After reading the original publications I immediately ordered the DVD and began to feel better in a matter of days within starting the workouts. I now do foundation exercises everyday of my life. EVERYDAY. I move pain free now. I am constantly telling everyone I work with who I see suffering the same muscular imbalances and erroneous muscle recruitment systems I used to suffer from about how foundation can help remedy this. More importantly I can now be the active father my children need. Foundation training has given me a new lease on life.
Relieve Plantar Fasciitis Pain
First, I must say, I am not one of these 'post everything that happens to me' people. In fact, I avoid it. But I must tell you my story and about the success of the Foundation Exercises on one of the most painful ailments I have ever had—Plantar Fasciitis. For the past 120 days, this extremely painful ailment affected my left heel. My wife asked me once how it felt. I described the intense stabbing pain as, "being hit in the heel every step with a sledge hammer." And worse, when I would let my foot dangle the pain would just continue pulsating. It was awful. Over these 120 days I have taken more Ibuprofen than at any time in my life, went to massage therapy, went to a neuromuscular skeletal therapist D.O., saw a resident M.D. got some drugs [didn't take them], rolled my heel with a tennis ball every night, got a rolling pin and rolled my leg muscles, and then went old school placing my foot in ice water then transferring it to hot water for as long as I could stand it.
I went on vacation where a lot of bike riding, walking, and touring was required. I did not want to go on the vacation because of the pain. After one particularly long bike ride I had to sit down while my wife went shopping, I literally could not stand the pain any more. I was sitting in front of a local Church and prayed a solution would come to me to somehow help relieve the pain. Suddenly, I remembered watching one of your early videos four years ago and had tried the 'hinging' exercise. I was determined when we returned to our condominium I would go online and try the exercise again to relieve the pain.
I studied the promotional video very carefully, got up, took of my shoes, and began. As you would know, and if done correctly, the exercises allow you to feel the entire 'back plane' being stretched. Because I was so tight, I could feel the stretch from my neck to my toes—initially the hinging was quite painful as well but it was a good pain—back plane stretch, fantastic! To cut to the chase, I first did the exercise on Sunday afternoon and again in the evening. By Monday morning I was walking with just a twinge of PF pain. Throughout the day on Monday I continued to do just the basic 'hinging' exercise. It is now Tuesday evening and I am walking completely pain free for the first time in four months. I am not sure others will have my same success. But I can say this, if you are reading this post and are suffering from Plantar Fasciitis give Foundation Training a try. You have nothing to lose and everything to gain.
-Jim
Incredible Healing
18 month ago, I asked my therapist if there was any new program to "cure" my back problems. I knew she had a very bad back and she said she had "cured" her back problems with Foundation Training. I asked if she meant "cured", or just better. She replied is was "cured"... I went home and started the course and in 5 weeks my back pain went away (including spasms). In 7 weeks my knee pain went away, and in 9 weeks my neck was considerably better. Now we are recommending that golfers try this wonderful posterior chain builder. It reactivates the glutes which are the foundation for ball striking. The other obvious benefit is looser hamstrings for flexibility and an increased shoulder turn. I wish this program had been around 30 years ago.
Happy
I heard a pop in my groin after shooting a goal in a college water polo match in 1977. 35 years of low back pain and two weeks before my wedding last year I had a laminectomy. I had given up some sports and desperately hung on to others. While x country skiing in Central Wisconsin, my buddy says "you have to check out Foundation Training." I now enjoy work and play like a child. For the first time in years I can put my pants on pain free. How good is that.
What FT has done for me!
I suffered a L-5 compression fracture 6 months ago and have not been able to find a work out that helps with my back pain until now. I began Foundation Training 3 days ago using your free YouTube video and I have noticed such an incredible difference in how I feel and operate. I feel more mobile, more flexible, and just overall better after using this! Thank you so much! I appreciate you for genuinely caring about the people of this world and what you have implemented to make a difference. I want to become a Foundation Trainer in the future and help to spread this effective solution to people who are in need of it. Thanks again!
-Scott Watson
Perfect for golf
Foundation Training is absolutely perfect for perfect posture in the golf swing. From set-up to finish, these exercises help with strength and conditioning for the complete game. Even with the bending over for putting. I spend a lot of time on the practice green putting and my back used to ache. But now, my back feels stronger and I have more endurance than before. I feel the positive effects of lengthening my spine which is critical because I have had two herniated disk surgeries and am 66 years old. Thank you guys. This is amazing.