This is type of training and knowledge is truly invaluable!!
Twenty-four years old and enjoying an active lifestyle with my new husband. A few months later came severe knee pain. Two different orthopedists and a year seeing a physical therapist and still no improvement or answer. X-rays and MRI's were negative. Knee pain turned into hip pain, which led to severe low back pain. The effects of over-compensation and poor bio mechanics had certainly taken effect and I was confused and discouraged, to say the least. Finally, at the age of 29, my chiropractor mentioned Foundation Training. On Christmas Day of 2013 I performed my first Founder and things have only been improving since. I was blessed to be able to incorporate Foundation Training exercises alongside the care of a great physical therapist who had the same understanding of the body. I am about to celebrate my 1 year "Foundation Training Anniversary" and feel stronger than ever before!! Pain is significantly decreased/eliminated, I move with confidence, and am beginning to engage in the activities of life that I have missed for so long.
I am most thankful that Foundation Training has not only allowed for me to get out of pain by strengthening my "true core" and learning proper movement patterns, but has been a source of educating me about the human body. I no longer panic when I feel pain, but am able to more clearly identify the issue and know what exercises will help me to eliminate the pain. This is type of training and knowledge is truly invaluable!! Thank you SO MUCH!!!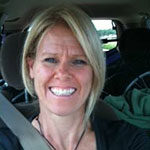 The Answer
Laying in bed one night, I found myself in tears wondering how many good years I really had left to workout the way I was used to, given the lower back pain I have had for so many years. Too, my body was beginning to show signs of breaking down with new joint pain in my knees.
Amazingly, within that same week I "stumbled" upon [Foundation Training]. Eric's story captured me immediately; a student of chiropractic medicine looking to avoid back surgery was totally believable.
I have since practiced the FT exercises faithfully (with amazing results) so that I now have a story to share, giving hope to others. As a certified PT in Fitness and Yoga my next step is to attain a certification in FT.
As it turns out, FT is more than an answer to the question that brought me to tears. It will no doubt be one of the best professional opportunities to cross my path. I can hardly wait to discover where this will take me and see how many people I can help! I am truly grateful 🙂
Incredible Healing
18 month ago, I asked my therapist if there was any new program to "cure" my back problems. I knew she had a very bad back and she said she had "cured" her back problems with Foundation Training. I asked if she meant "cured", or just better. She replied is was "cured"... I went home and started the course and in 5 weeks my back pain went away (including spasms). In 7 weeks my knee pain went away, and in 9 weeks my neck was considerably better. Now we are recommending that golfers try this wonderful posterior chain builder. It reactivates the glutes which are the foundation for ball striking. The other obvious benefit is looser hamstrings for flexibility and an increased shoulder turn. I wish this program had been around 30 years ago.
So much gratitude…
I'm a former competitive / pro-athlete now in an office job with all of the aches and pains that came with both. I have been doing Foundation Training for about a year now.
A sincere thank you to you for the best workout I've ever found. The descriptions of what one should be feeling throughout each exercise have made the workouts relevant for me over the long haul, where I can constantly challenge myself to greater and greater strength. My posture is completely transformed; my digestive system operating at peak; my trips to the chiropractor are now just as a matter of quarterly preventative care.
Mere words, but sincerely, I thank you for the tools for physical empowerment!
Perfect for golf
Foundation Training is absolutely perfect for perfect posture in the golf swing. From set-up to finish, these exercises help with strength and conditioning for the complete game. Even with the bending over for putting. I spend a lot of time on the practice green putting and my back used to ache. But now, my back feels stronger and I have more endurance than before. I feel the positive effects of lengthening my spine which is critical because I have had two herniated disk surgeries and am 66 years old. Thank you guys. This is amazing.
My back and hip pain is now a choice
I hurt my back many years ago by lifting things that were too heavy for me but managed to keep out of pain most of the time through my yoga practice. However after a fairly disastrous hysterectomy in 2015 my back became much weaker through lack of use and then when I started using it again I sat up in bed one morning in Jan 2016 and felt it go completely in the same place as the old injury. I was floored with the pain of what I suspected was herniated disc and couldn't move at first and then only with severe shooting pain down my right leg and particularly in, through and under my right hip joint. I struggled through the year with osteopathy and pain killers but as I teach yoga and play golf I knew I needed to know what was wrong and why it wouldn't heal this time. I finally had a mri scan in September which showed the disc bulging on the right handside. 'Likely to be an ongoing problem' the doctor said. I took this as a personal challenge! Having listening to a book review by Brian Johnson of True to Form and watching Eric's TED talk I bought the FT Connect programme a week before Christmas 2016. I followed it religiously and within 5 days started to feel muscles that had been long forgotten whilst protecting the damaged disc start firing and providing support once more. I couldn't believe it felt so different, so much better than it had for so long. All the training information made perfect sense and I felt empowered to make the right moves to heal myself from within. I have adapted my personal yoga practice to incorporate this. On those few days that I have not fully committed to the workout I noticed a twinge here and there returning. This is why I say that my back and hip pain is now a choice. If I do the exercises everyday I feel great and if I don't it comes back. My choice. Simple!
I have signed up for the training in Florida, as I feel just about everyone could benefit mind and body from holding their own body in this way. Yes this goes well beyond the physical I think expanding the diaphragm in this way improves wellbeing and happiness too.
Happy
I heard a pop in my groin after shooting a goal in a college water polo match in 1977. 35 years of low back pain and two weeks before my wedding last year I had a laminectomy. I had given up some sports and desperately hung on to others. While x country skiing in Central Wisconsin, my buddy says "you have to check out Foundation Training." I now enjoy work and play like a child. For the first time in years I can put my pants on pain free. How good is that.
4500km of Founders
I had been planning a cycling trip down the GDMBT for a couple of years. I am happy to say that my dedication to performing a Founder based routine daily for the year leading up to the trip and then Founders anytime I was off the bike – in the rain, on mountain passes, NM deserts put me in a position where I had literally no spinal/back discomfort at anytime over the 50 days and 4500km of off-road cycling in very remote places. A strong statement coming from a 54 yr old well worn body. I even had a couple of kids imitating me while I was taking a break going thru a reserve in NM. AWESOME BODY OF WORK. It is my go to program for my patients seen daily in my Chiropractic Practice.
Thank you Foundation Training
I have suffered from chronic back pain for over 20 years until I discovered Foundation Training.
Coming from a very physically demanding Military unit I returned to civilian life barely being able to put on my shoes in the morning because of the lack of flexibility and pain. I was able to maintain an active lifestyle through stretching and even some "as seen on TV" gimmicks which had some benefits, but seemed to only be temporary relief. I was even desperate enough to buy a $5000 hot tub which is very nice, but is far from the answer to back pain.
I have been determined to continue an active lifestyle and continue my career in Law Enforcement, but I began to lose time at work and about twice a year my back would "go out" and I would be completely immobilized for a week or two. Long hours of sitting in a car with duty gear pushing against my lower back and walking with the off balance heavy gear hanging from my hips had completely taken its toll and I was beginning to wonder if a medical retirement or back surgery was the only option.
I discovered Foundation Training from a fellow student on a work trip several months ago and I have been practicing religiously. It has completely turned things around for me and I expect to continue to improve and live my active lifestyle and enjoy my career indefinitely.
Amazing!
I have had lower back pain for 5 years. Just constant aggravation in the lower back. Also have had numbness in my thumb and two forefingers in my left hand. My lower back pain disappeared after just the first two sessions of learning the movements. I bought the disc set and am currently on my 3rd week of practicing the movements. My hand numbness is 60-70% better and expect that it may very well disappear in 2-3 months. I could not be more sold on your exercises and program. By the way the MRIs indicated that I have a bulging disc in my neck and a herniated disc in my lower back.