Terry Schroeder, D.C., Head Coach, USA Olympic Water Polo Team
Dr. Eric Goodman worked as the Strength coach for our USA Olympic Water Polo team from December 2007 to July 2008 leading to the Beijing Olympic Games. All of these athletes are world-class and they felt that Eric did an exceptional job of keeping them injury free while performing at a very high level through some extremely tough months of training. In my opinion, this program was very critical to our success in Beijing. The team exceeded everyone's expectations and became one of the great stories of the Olympics by winning the silver medal. We stayed healthy and performed at a high level and Dr. Goodman deserves a good deal of credit.
Relieve Plantar Fasciitis Pain
First, I must say, I am not one of these 'post everything that happens to me' people. In fact, I avoid it. But I must tell you my story and about the success of the Foundation Exercises on one of the most painful ailments I have ever had—Plantar Fasciitis. For the past 120 days, this extremely painful ailment affected my left heel. My wife asked me once how it felt. I described the intense stabbing pain as, "being hit in the heel every step with a sledge hammer." And worse, when I would let my foot dangle the pain would just continue pulsating. It was awful. Over these 120 days I have taken more Ibuprofen than at any time in my life, went to massage therapy, went to a neuromuscular skeletal therapist D.O., saw a resident M.D. got some drugs [didn't take them], rolled my heel with a tennis ball every night, got a rolling pin and rolled my leg muscles, and then went old school placing my foot in ice water then transferring it to hot water for as long as I could stand it.
I went on vacation where a lot of bike riding, walking, and touring was required. I did not want to go on the vacation because of the pain. After one particularly long bike ride I had to sit down while my wife went shopping, I literally could not stand the pain any more. I was sitting in front of a local Church and prayed a solution would come to me to somehow help relieve the pain. Suddenly, I remembered watching one of your early videos four years ago and had tried the 'hinging' exercise. I was determined when we returned to our condominium I would go online and try the exercise again to relieve the pain.
I studied the promotional video very carefully, got up, took of my shoes, and began. As you would know, and if done correctly, the exercises allow you to feel the entire 'back plane' being stretched. Because I was so tight, I could feel the stretch from my neck to my toes—initially the hinging was quite painful as well but it was a good pain—back plane stretch, fantastic! To cut to the chase, I first did the exercise on Sunday afternoon and again in the evening. By Monday morning I was walking with just a twinge of PF pain. Throughout the day on Monday I continued to do just the basic 'hinging' exercise. It is now Tuesday evening and I am walking completely pain free for the first time in four months. I am not sure others will have my same success. But I can say this, if you are reading this post and are suffering from Plantar Fasciitis give Foundation Training a try. You have nothing to lose and everything to gain.
-Jim
Amazing!
I have had lower back pain for 5 years. Just constant aggravation in the lower back. Also have had numbness in my thumb and two forefingers in my left hand. My lower back pain disappeared after just the first two sessions of learning the movements. I bought the disc set and am currently on my 3rd week of practicing the movements. My hand numbness is 60-70% better and expect that it may very well disappear in 2-3 months. I could not be more sold on your exercises and program. By the way the MRIs indicated that I have a bulging disc in my neck and a herniated disc in my lower back.
Severe Low Back Disc Degeneration back to full function
I have been a Chiropractor for over 30 years, specializing in Orthopedics, Rehabilitation and Sports Medicine. I was very hard on my body prior to practice, with many sports injuries, physically demanding jobs, and too much weight lifting (not the best thing for disc health). My second year in practice, I ruptured my L4-5 disc completely. It is 90% degenerated with bone spurs, etc. After retiring the practice, I have been (working even harder than I have ever worked) building a home, and as owner, laborer I did all the heavy, repetitive jobs that no one wanted to do. My back was killing me many times during the 3 years I have been working on every phase of this new home build. I found out about Foundation Training and have been doing them 3 to 5 days a week for the past 4 months and an SO GRATEFUL for Dr. Goodman's expertise, his work and research in this area. My low back is 98% symptom free and I believe these active exercises have been THE best thing I have done for my spinal health in 45 years. I am now 60 + years young, but I move, workout and work on our landscaping like I am in my 20s or 30s! Thanks for Foundation Training as a major part of my health and wellness program.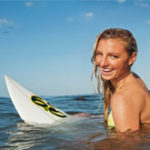 Lakey Peterson, Women's Surfing Champion
Practicing Foundation Training for the past 4 years has been one of the most critical decisions of my surfing career. I had recurring lower back problems when I was a bit younger, but since starting Foundation Training I have felt constant improvement with little to no pain whatsoever. My flexibility and stability are both the best they have ever been. As my career is growing and I am now surfing on the World Tour, I can easily tell you that Foundation Training is a huge part of my success as a surfer. It helps me continue to become the best athlete I can be.
So much gratitude…
I'm a former competitive / pro-athlete now in an office job with all of the aches and pains that came with both. I have been doing Foundation Training for about a year now.
A sincere thank you to you for the best workout I've ever found. The descriptions of what one should be feeling throughout each exercise have made the workouts relevant for me over the long haul, where I can constantly challenge myself to greater and greater strength. My posture is completely transformed; my digestive system operating at peak; my trips to the chiropractor are now just as a matter of quarterly preventative care.
Mere words, but sincerely, I thank you for the tools for physical empowerment!
Feeling so good
I had huge back problems. Spinal Stenosis, herniated discs and Spondylosis from years of bad posture and sports injuries. I did yoga for many years but even some of those poses aggravated the situation and made things worse for me. I started Foundation Training and it has made a huge difference. I have no pain at all. My back feels stronger everyday. As a nutrition consultant, I find myself now telling my clients about it. I am hooked! Great program!
Happy
I heard a pop in my groin after shooting a goal in a college water polo match in 1977. 35 years of low back pain and two weeks before my wedding last year I had a laminectomy. I had given up some sports and desperately hung on to others. While x country skiing in Central Wisconsin, my buddy says "you have to check out Foundation Training." I now enjoy work and play like a child. For the first time in years I can put my pants on pain free. How good is that.
Daniel Kalish, D.C., Founder, The Kalish Institute
Using the hips to hinge, paying special attention to the head/neck relationship, developing the core strength of the posterior chain vs. limb strength or ab strength I'd heard all this before, thirty years before and have had decades of personal experience with the various systems out there that attempt to focus on these concepts. So I put the book down, ignored the DVD and didn't try Foundation Training. (Hint, this was a mistake, don't do this.) Fortunately I was offered a couple of sessions with a Foundation Training expert trained by Dr. Goodman to learn about the work directly and I grudgingly went along with it just to check out what the buzz was around Foundation Training. Literally two minutes into the exercises I realized something special was going on here. Dr. Goodman has taken a very well-worn path and blazed a completely new trail which is impossible to appreciate or understand until you get your first two minutes of Foundation Training and the light bulb goes on. Foundation Training is like powerlifting or Olympic weight training for your deep postural muscles. As we sit a lot, collapsed, and work on computers these deep postural muscles degrade and weaken to the point they can no longer function and hold us up. Even the "fit" among us, professional athletes, tend toward developing poor movement patterns from the years of sitting we all do that then translate into their sport whether it be basketball or cycling. Breaking these postural movement patterns is virtually impossible using most all of the existing systems. Yoga increases flexibility and strength, weight training increases muscle strength, the Alexander Technique and Feldenkrais make us aware of poor movement patterns, but Dr. Goodman has developed the unthinkable – one single set of exercises that quickly, almost miraculously create profound muscle strength and flexibility at the same time in just the areas we are weakest and tightest from our modern lifestyle habits.
Tim Brown, D.C. Inventor of Intelliskin Posture Apparel
Eric has created the perfect storm, bringing together evidence-based science and functional training that is second to none. Their approach to building a solid foundation is my prescription for everyone from top athletes in the world to their mothers! Movement is life. Life is movement. And if you are limited in how you move against the constant forces of gravity, it is only a matter of time until you are injured. I know this to be true as I have experienced this roller coaster as a competitive athlete. Not until I retrained my movement patterns did the cycle of injury after injury end. It really is a thing of beauty to see such a brilliant melding of creativity and sports science built into a practical, low-tech program that focuses on posture, core, and fundamental movement patterns designed first and foremost to provide athletes with a solid foundation to apply to their chosen sport. I'll never forget what Derek Fisher said to Eric about why he chose to work with Foundation Training: "I did not hire you to make me a better basketball player; I hired you to make me a better athlete." True, true.