My back and hip pain is now a choice
I hurt my back many years ago by lifting things that were too heavy for me but managed to keep out of pain most of the time through my yoga practice. However after a fairly disastrous hysterectomy in 2015 my back became much weaker through lack of use and then when I started using it again I sat up in bed one morning in Jan 2016 and felt it go completely in the same place as the old injury. I was floored with the pain of what I suspected was herniated disc and couldn't move at first and then only with severe shooting pain down my right leg and particularly in, through and under my right hip joint. I struggled through the year with osteopathy and pain killers but as I teach yoga and play golf I knew I needed to know what was wrong and why it wouldn't heal this time. I finally had a mri scan in September which showed the disc bulging on the right handside. 'Likely to be an ongoing problem' the doctor said. I took this as a personal challenge! Having listening to a book review by Brian Johnson of True to Form and watching Eric's TED talk I bought the FT Connect programme a week before Christmas 2016. I followed it religiously and within 5 days started to feel muscles that had been long forgotten whilst protecting the damaged disc start firing and providing support once more. I couldn't believe it felt so different, so much better than it had for so long. All the training information made perfect sense and I felt empowered to make the right moves to heal myself from within. I have adapted my personal yoga practice to incorporate this. On those few days that I have not fully committed to the workout I noticed a twinge here and there returning. This is why I say that my back and hip pain is now a choice. If I do the exercises everyday I feel great and if I don't it comes back. My choice. Simple!
I have signed up for the training in Florida, as I feel just about everyone could benefit mind and body from holding their own body in this way. Yes this goes well beyond the physical I think expanding the diaphragm in this way improves wellbeing and happiness too.
Tim Brown, D.C. Inventor of Intelliskin Posture Apparel
Eric has created the perfect storm, bringing together evidence-based science and functional training that is second to none. Their approach to building a solid foundation is my prescription for everyone from top athletes in the world to their mothers! Movement is life. Life is movement. And if you are limited in how you move against the constant forces of gravity, it is only a matter of time until you are injured. I know this to be true as I have experienced this roller coaster as a competitive athlete. Not until I retrained my movement patterns did the cycle of injury after injury end. It really is a thing of beauty to see such a brilliant melding of creativity and sports science built into a practical, low-tech program that focuses on posture, core, and fundamental movement patterns designed first and foremost to provide athletes with a solid foundation to apply to their chosen sport. I'll never forget what Derek Fisher said to Eric about why he chose to work with Foundation Training: "I did not hire you to make me a better basketball player; I hired you to make me a better athlete." True, true.
Relieve Plantar Fasciitis Pain
First, I must say, I am not one of these 'post everything that happens to me' people. In fact, I avoid it. But I must tell you my story and about the success of the Foundation Exercises on one of the most painful ailments I have ever had—Plantar Fasciitis. For the past 120 days, this extremely painful ailment affected my left heel. My wife asked me once how it felt. I described the intense stabbing pain as, "being hit in the heel every step with a sledge hammer." And worse, when I would let my foot dangle the pain would just continue pulsating. It was awful. Over these 120 days I have taken more Ibuprofen than at any time in my life, went to massage therapy, went to a neuromuscular skeletal therapist D.O., saw a resident M.D. got some drugs [didn't take them], rolled my heel with a tennis ball every night, got a rolling pin and rolled my leg muscles, and then went old school placing my foot in ice water then transferring it to hot water for as long as I could stand it.
I went on vacation where a lot of bike riding, walking, and touring was required. I did not want to go on the vacation because of the pain. After one particularly long bike ride I had to sit down while my wife went shopping, I literally could not stand the pain any more. I was sitting in front of a local Church and prayed a solution would come to me to somehow help relieve the pain. Suddenly, I remembered watching one of your early videos four years ago and had tried the 'hinging' exercise. I was determined when we returned to our condominium I would go online and try the exercise again to relieve the pain.
I studied the promotional video very carefully, got up, took of my shoes, and began. As you would know, and if done correctly, the exercises allow you to feel the entire 'back plane' being stretched. Because I was so tight, I could feel the stretch from my neck to my toes—initially the hinging was quite painful as well but it was a good pain—back plane stretch, fantastic! To cut to the chase, I first did the exercise on Sunday afternoon and again in the evening. By Monday morning I was walking with just a twinge of PF pain. Throughout the day on Monday I continued to do just the basic 'hinging' exercise. It is now Tuesday evening and I am walking completely pain free for the first time in four months. I am not sure others will have my same success. But I can say this, if you are reading this post and are suffering from Plantar Fasciitis give Foundation Training a try. You have nothing to lose and everything to gain.
-Jim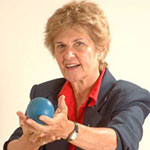 Dr. Joan Vernikos, Former NASA Director of Life Sciences & Author of Sitting Kills, Moving Heals
The human body is designed to thrive against gravity – else we tend to age rapidly and get injured. Foundation Training is the answer to my many years of research on the negative effects of sitting. It is a ticket to discover a more vibrant health life – no matter your age.
4500km of Founders
I had been planning a cycling trip down the GDMBT for a couple of years. I am happy to say that my dedication to performing a Founder based routine daily for the year leading up to the trip and then Founders anytime I was off the bike – in the rain, on mountain passes, NM deserts put me in a position where I had literally no spinal/back discomfort at anytime over the 50 days and 4500km of off-road cycling in very remote places. A strong statement coming from a 54 yr old well worn body. I even had a couple of kids imitating me while I was taking a break going thru a reserve in NM. AWESOME BODY OF WORK. It is my go to program for my patients seen daily in my Chiropractic Practice.
This is type of training and knowledge is truly invaluable!!
Twenty-four years old and enjoying an active lifestyle with my new husband. A few months later came severe knee pain. Two different orthopedists and a year seeing a physical therapist and still no improvement or answer. X-rays and MRI's were negative. Knee pain turned into hip pain, which led to severe low back pain. The effects of over-compensation and poor bio mechanics had certainly taken effect and I was confused and discouraged, to say the least. Finally, at the age of 29, my chiropractor mentioned Foundation Training. On Christmas Day of 2013 I performed my first Founder and things have only been improving since. I was blessed to be able to incorporate Foundation Training exercises alongside the care of a great physical therapist who had the same understanding of the body. I am about to celebrate my 1 year "Foundation Training Anniversary" and feel stronger than ever before!! Pain is significantly decreased/eliminated, I move with confidence, and am beginning to engage in the activities of life that I have missed for so long.
I am most thankful that Foundation Training has not only allowed for me to get out of pain by strengthening my "true core" and learning proper movement patterns, but has been a source of educating me about the human body. I no longer panic when I feel pain, but am able to more clearly identify the issue and know what exercises will help me to eliminate the pain. This is type of training and knowledge is truly invaluable!! Thank you SO MUCH!!!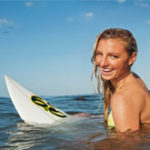 Lakey Peterson, Women's Surfing Champion
Practicing Foundation Training for the past 4 years has been one of the most critical decisions of my surfing career. I had recurring lower back problems when I was a bit younger, but since starting Foundation Training I have felt constant improvement with little to no pain whatsoever. My flexibility and stability are both the best they have ever been. As my career is growing and I am now surfing on the World Tour, I can easily tell you that Foundation Training is a huge part of my success as a surfer. It helps me continue to become the best athlete I can be.
Amazing!
I have had lower back pain for 5 years. Just constant aggravation in the lower back. Also have had numbness in my thumb and two forefingers in my left hand. My lower back pain disappeared after just the first two sessions of learning the movements. I bought the disc set and am currently on my 3rd week of practicing the movements. My hand numbness is 60-70% better and expect that it may very well disappear in 2-3 months. I could not be more sold on your exercises and program. By the way the MRIs indicated that I have a bulging disc in my neck and a herniated disc in my lower back.
Dominique Vallee, Canadian Snowboard Team, Many World Champs, X-Games and 2006 Olympics
I just wanted to say that I'm really impressed with the foundation training exercises and videos. I've been on the Canadian Snowboard Team for 10 years and competed in many World Champs, X-Games and 2006 Olympics in Half-pipe and snowboard-cross. We've trained with some of the best physical trainers and physios but your short training video make a world of a difference to me. Makes my back and core work at all the right places and feel my hips and lower back stretch as well. Thank you so much for making a difference. I've told countless amount of friends as well about your website and everybody is amazed in what a 18-21min video can do. Keep up the great work and TED conferences.
Severe Low Back Disc Degeneration back to full function
I have been a Chiropractor for over 30 years, specializing in Orthopedics, Rehabilitation and Sports Medicine. I was very hard on my body prior to practice, with many sports injuries, physically demanding jobs, and too much weight lifting (not the best thing for disc health). My second year in practice, I ruptured my L4-5 disc completely. It is 90% degenerated with bone spurs, etc. After retiring the practice, I have been (working even harder than I have ever worked) building a home, and as owner, laborer I did all the heavy, repetitive jobs that no one wanted to do. My back was killing me many times during the 3 years I have been working on every phase of this new home build. I found out about Foundation Training and have been doing them 3 to 5 days a week for the past 4 months and an SO GRATEFUL for Dr. Goodman's expertise, his work and research in this area. My low back is 98% symptom free and I believe these active exercises have been THE best thing I have done for my spinal health in 45 years. I am now 60 + years young, but I move, workout and work on our landscaping like I am in my 20s or 30s! Thanks for Foundation Training as a major part of my health and wellness program.