This is type of training and knowledge is truly invaluable!!
Twenty-four years old and enjoying an active lifestyle with my new husband. A few months later came severe knee pain. Two different orthopedists and a year seeing a physical therapist and still no improvement or answer. X-rays and MRI's were negative. Knee pain turned into hip pain, which led to severe low back pain. The effects of over-compensation and poor bio mechanics had certainly taken effect and I was confused and discouraged, to say the least. Finally, at the age of 29, my chiropractor mentioned Foundation Training. On Christmas Day of 2013 I performed my first Founder and things have only been improving since. I was blessed to be able to incorporate Foundation Training exercises alongside the care of a great physical therapist who had the same understanding of the body. I am about to celebrate my 1 year "Foundation Training Anniversary" and feel stronger than ever before!! Pain is significantly decreased/eliminated, I move with confidence, and am beginning to engage in the activities of life that I have missed for so long.
I am most thankful that Foundation Training has not only allowed for me to get out of pain by strengthening my "true core" and learning proper movement patterns, but has been a source of educating me about the human body. I no longer panic when I feel pain, but am able to more clearly identify the issue and know what exercises will help me to eliminate the pain. This is type of training and knowledge is truly invaluable!! Thank you SO MUCH!!!
Incredible Healing
18 month ago, I asked my therapist if there was any new program to "cure" my back problems. I knew she had a very bad back and she said she had "cured" her back problems with Foundation Training. I asked if she meant "cured", or just better. She replied is was "cured"... I went home and started the course and in 5 weeks my back pain went away (including spasms). In 7 weeks my knee pain went away, and in 9 weeks my neck was considerably better. Now we are recommending that golfers try this wonderful posterior chain builder. It reactivates the glutes which are the foundation for ball striking. The other obvious benefit is looser hamstrings for flexibility and an increased shoulder turn. I wish this program had been around 30 years ago.
Bryan Peterson, Professional Baseball Player
Foundation serves as the backbone of not only my workouts but also my lifestyle. At first I thought that it would just make me a better athlete, but after nearly 3 years under my belt, it has done so much more. It just makes you a better functioning human being. I like it so much that everyone around me knows how much I like it because I talk about it all the time. Baseball players sit on airplanes and busses and in dugouts. We have actions that are always one direction. Our backs are a mess, our hips are screwed up and foundation helps to right all those wrongs. Everyone I come into contact with has some issue and I get to share with them the gift of foundation. I know its worked in my life and in my friends life – and I always get a kick when someone I've never talked to about it comes up to me and says "Hey, what's this I'm hearing about your funny workout you do, can you show me?"
Terry Schroeder, D.C., Head Coach, USA Olympic Water Polo Team
Dr. Eric Goodman worked as the Strength coach for our USA Olympic Water Polo team from December 2007 to July 2008 leading to the Beijing Olympic Games. All of these athletes are world-class and they felt that Eric did an exceptional job of keeping them injury free while performing at a very high level through some extremely tough months of training. In my opinion, this program was very critical to our success in Beijing. The team exceeded everyone's expectations and became one of the great stories of the Olympics by winning the silver medal. We stayed healthy and performed at a high level and Dr. Goodman deserves a good deal of credit.
Dominique Vallee, Canadian Snowboard Team, Many World Champs, X-Games and 2006 Olympics
I just wanted to say that I'm really impressed with the foundation training exercises and videos. I've been on the Canadian Snowboard Team for 10 years and competed in many World Champs, X-Games and 2006 Olympics in Half-pipe and snowboard-cross. We've trained with some of the best physical trainers and physios but your short training video make a world of a difference to me. Makes my back and core work at all the right places and feel my hips and lower back stretch as well. Thank you so much for making a difference. I've told countless amount of friends as well about your website and everybody is amazed in what a 18-21min video can do. Keep up the great work and TED conferences.
My Updated Testimony
I have written to you all before about how Foundation Training has helped me but I keep getting better so I wanted to give you an update. I got the MRI that diagnosed my 9mm herniated disk between L4-L5 and the 3mm herniated disk between L3-L4 that is torn in May of 2013 and was promptly told I needed a multi level lumbar fusion. I was 27 years old looking at losing my job as an RN after only working for one year. I did not feel that surgery was the right choice for me since I had all sensation and motor control. I found a wonderful chiropractor that wasn't afraid to work with me and he told me surgery was not my only option. I was there a lot but he helped me I was able to keep working. I read about Foundation Training in The Wellness Journal in August 2013 and proceeded to go for it after my chiropractor said that the exercises looked great. It got me out of pain quickly and helped me re-learn how to move the way I was always meant to. The exercises braced me for 2 car accidents I experienced in 2014 and helped me recover quickly. I share Foundation Training with anyone I meet who say they have back pain or ask me how my back is doing, I do the Founder exercise while in the Nursing station and have many of my coworkers ask about it so I go through that move with them too. This experience has opened my eyes to the sadly common problem of back pain and I want to give back so I am planning the attend one of the certifications in the Spring of 2015! I have gone from doing a 2 hour FT workout almost everyday in the beginning to about 20 minutes a few times a week because I have so little pain and because I know Foundation Training has truly changed the way my body moves at all times so it is like my whole day is FT exercises. Bending to get dinner out of the oven, picking up my friends kids, sitting at my desk, dressing/ turning patients, walking, hiking, and picking up heavy stuff looks very different now. I use the strong muscles that your program has reconnected me to for my movement and that has gotten out of some serious pain. Thank you so much!
4500km of Founders
I had been planning a cycling trip down the GDMBT for a couple of years. I am happy to say that my dedication to performing a Founder based routine daily for the year leading up to the trip and then Founders anytime I was off the bike – in the rain, on mountain passes, NM deserts put me in a position where I had literally no spinal/back discomfort at anytime over the 50 days and 4500km of off-road cycling in very remote places. A strong statement coming from a 54 yr old well worn body. I even had a couple of kids imitating me while I was taking a break going thru a reserve in NM. AWESOME BODY OF WORK. It is my go to program for my patients seen daily in my Chiropractic Practice.
Happy
I heard a pop in my groin after shooting a goal in a college water polo match in 1977. 35 years of low back pain and two weeks before my wedding last year I had a laminectomy. I had given up some sports and desperately hung on to others. While x country skiing in Central Wisconsin, my buddy says "you have to check out Foundation Training." I now enjoy work and play like a child. For the first time in years I can put my pants on pain free. How good is that.
Feeling so good
I had huge back problems. Spinal Stenosis, herniated discs and Spondylosis from years of bad posture and sports injuries. I did yoga for many years but even some of those poses aggravated the situation and made things worse for me. I started Foundation Training and it has made a huge difference. I have no pain at all. My back feels stronger everyday. As a nutrition consultant, I find myself now telling my clients about it. I am hooked! Great program!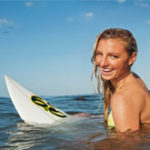 Lakey Peterson, Women's Surfing Champion
Practicing Foundation Training for the past 4 years has been one of the most critical decisions of my surfing career. I had recurring lower back problems when I was a bit younger, but since starting Foundation Training I have felt constant improvement with little to no pain whatsoever. My flexibility and stability are both the best they have ever been. As my career is growing and I am now surfing on the World Tour, I can easily tell you that Foundation Training is a huge part of my success as a surfer. It helps me continue to become the best athlete I can be.