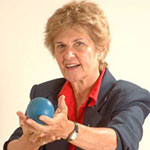 Dr. Joan Vernikos, Former NASA Director of Life Sciences & Author of Sitting Kills, Moving Heals
The human body is designed to thrive against gravity – else we tend to age rapidly and get injured. Foundation Training is the answer to my many years of research on the negative effects of sitting. It is a ticket to discover a more vibrant health life – no matter your age.
4500km of Founders
I had been planning a cycling trip down the GDMBT for a couple of years. I am happy to say that my dedication to performing a Founder based routine daily for the year leading up to the trip and then Founders anytime I was off the bike – in the rain, on mountain passes, NM deserts put me in a position where I had literally no spinal/back discomfort at anytime over the 50 days and 4500km of off-road cycling in very remote places. A strong statement coming from a 54 yr old well worn body. I even had a couple of kids imitating me while I was taking a break going thru a reserve in NM. AWESOME BODY OF WORK. It is my go to program for my patients seen daily in my Chiropractic Practice.
It Works!
I have had nagging right sided lower back pain for years. My sacroiliac joint was unstable and I'd "throw it out" routinely. Now, if you've ever had back pain, acute or chronic, you know what I mean when I say that when your back hurts, it ruins everything in your life. Being an athlete with medical training, for years I stubbornly pursued many avenues of treatment, holistic and conventional. I read dozens of research articles on the subject, hunted down and visited numerous specialists in several states, and put myself through thousands of dollars of training including dynamic neuromuscular stabilization (DNS), Barefoot Training Certification, Don Tigney's work, the Egoscue system and even Postural Restoration Institute (PRI) sequences.
In the late summer of 2013, I had an MRI and CT scan performed. My chiro looked at these and thought my spine looked "pretty bad." My orthopedic surgeon was more admirably direct and matter-of-fact stating "Your spine looks like sh-t." Here I was, a lifelong athlete dedicated to the pursuit of fitness and health, and I had somehow torn my own back apart in the process. I got pretty depressed.
Sensing an epiphany, I began doing the Foundation Training exercises... I do not exaggerate when I say that within a few days (< 1 week) I noticed that I wasn't throwing my back out. After a few more days, my back felt abnormal...meaning it didn't hurt. It was so strange (and welcome!) NOT to be experiencing nearly constant pain...
Since I began using the techniques in Foundation Training, I have remained free of the back pain and instability that had plagued me for years before. Interestingly, my left knee, quite commonly a source of pain, also stopped hurting. This latter tidbit may seem odd at first, but the knee's function is strongly influenced by central (core) body control. I incorporate parts of the system regularly in my daily life…sometimes just a couple of movements and sometimes a whole sequence. For people who have back/hip/neck pain, I strongly recommend Foundation Training because it really hits at the essential components of human movement and function. For people who don't have pain, I recommend the practice because even if you are pain-free now, you are probably well en route to developing it as pain is a pretty late sign of long-term dysfunction. To clarify, think of a car with bad front end alignment and an abnormally worn front tire. As with our bodies, the tire wear didn't happen suddenly, but was a result of a long-standing alignment problem.
A little about me: I am an active 50 year old male in the final year of the Human Movement Master's Program at (ATSU), former Marine, currently Firefighter/Paramedic, Tae Kwon Do Black Belt, current Brazilian Jiu Jitsu practitioner, Hardstyle Kettlebell Instructor, NASM Personal Trainer with specialization in Performance Enhancement and Corrective Exercise, DNS Sport Levels I & II, FMS I & II, Barefoot Mechanics, and just a nerd in general 🙂
Derek Fisher, Professional Basketball Player
I search for the best of the best when it comes to my fitness and conditioning. I have always been in great shape and take pride in maintaining a certain level of fitness, but in the time I have been working with Peter Park and Eric Goodman, I have reached a new level of endurance, stamina, and strength. The program pushes me without exhausting me, conditions me, and has completely changed the way my body moves and feels.
Bryan Peterson, Professional Baseball Player
Foundation serves as the backbone of not only my workouts but also my lifestyle. At first I thought that it would just make me a better athlete, but after nearly 3 years under my belt, it has done so much more. It just makes you a better functioning human being. I like it so much that everyone around me knows how much I like it because I talk about it all the time. Baseball players sit on airplanes and busses and in dugouts. We have actions that are always one direction. Our backs are a mess, our hips are screwed up and foundation helps to right all those wrongs. Everyone I come into contact with has some issue and I get to share with them the gift of foundation. I know its worked in my life and in my friends life – and I always get a kick when someone I've never talked to about it comes up to me and says "Hey, what's this I'm hearing about your funny workout you do, can you show me?"
My back and hip pain is now a choice
I hurt my back many years ago by lifting things that were too heavy for me but managed to keep out of pain most of the time through my yoga practice. However after a fairly disastrous hysterectomy in 2015 my back became much weaker through lack of use and then when I started using it again I sat up in bed one morning in Jan 2016 and felt it go completely in the same place as the old injury. I was floored with the pain of what I suspected was herniated disc and couldn't move at first and then only with severe shooting pain down my right leg and particularly in, through and under my right hip joint. I struggled through the year with osteopathy and pain killers but as I teach yoga and play golf I knew I needed to know what was wrong and why it wouldn't heal this time. I finally had a mri scan in September which showed the disc bulging on the right handside. 'Likely to be an ongoing problem' the doctor said. I took this as a personal challenge! Having listening to a book review by Brian Johnson of True to Form and watching Eric's TED talk I bought the FT Connect programme a week before Christmas 2016. I followed it religiously and within 5 days started to feel muscles that had been long forgotten whilst protecting the damaged disc start firing and providing support once more. I couldn't believe it felt so different, so much better than it had for so long. All the training information made perfect sense and I felt empowered to make the right moves to heal myself from within. I have adapted my personal yoga practice to incorporate this. On those few days that I have not fully committed to the workout I noticed a twinge here and there returning. This is why I say that my back and hip pain is now a choice. If I do the exercises everyday I feel great and if I don't it comes back. My choice. Simple!
I have signed up for the training in Florida, as I feel just about everyone could benefit mind and body from holding their own body in this way. Yes this goes well beyond the physical I think expanding the diaphragm in this way improves wellbeing and happiness too.
So much gratitude…
I'm a former competitive / pro-athlete now in an office job with all of the aches and pains that came with both. I have been doing Foundation Training for about a year now.
A sincere thank you to you for the best workout I've ever found. The descriptions of what one should be feeling throughout each exercise have made the workouts relevant for me over the long haul, where I can constantly challenge myself to greater and greater strength. My posture is completely transformed; my digestive system operating at peak; my trips to the chiropractor are now just as a matter of quarterly preventative care.
Mere words, but sincerely, I thank you for the tools for physical empowerment!
Perfect for golf
Foundation Training is absolutely perfect for perfect posture in the golf swing. From set-up to finish, these exercises help with strength and conditioning for the complete game. Even with the bending over for putting. I spend a lot of time on the practice green putting and my back used to ache. But now, my back feels stronger and I have more endurance than before. I feel the positive effects of lengthening my spine which is critical because I have had two herniated disk surgeries and am 66 years old. Thank you guys. This is amazing.
Lucas Euser, Professional Cyclist
[Foundation Training] was the keystone to my recovery… it gave me my career back. The Foundation exercises rapidly increased my strength, flexibility, coordination, and balance quicker than I ever could have imagined… I went from having a hard time walking up and down stairs to competing in the Amgen Tour of California in May of 2010... I was not only able to meet my goal of finishing the 7 day, 812 mile race but I was also able to finish inside the top 20 and be highly competitive day in and day out. Since, I have taken these exercises to heart and put them into my training regime year round. They helped get me back to racing competitively as well as cured other imbalances I had developed after years of racing my bike and neglecting my core strength. I encourage everyone to have the open mind I did when seeking help for my injury. Follow that path and a better, healthier lifestyle is right around the corner.
The Future of Human Movement
As a motocross racer, Foundation Training has allowed me to move more efficiently and effectively on my motorbike. The Foundation Training movements will increase the longevity of my career because they are great for prevention and treatment of many injuries (not just back injuries). On top of that, they will improve my performance because I will be better able to create power using my posterior chain. After reading the book and watching the new DVD, I believe so strongly in the principles of Foundation Training that I just had to express my gratitude through this testimonial.